Show Your Great Lakes' Sailor a Little TLC from Home
by Purchasing an Exclusive Student Care Package!
Note: At this time, Student Care Packages are ONLY available to A and C School students stationed at Naval Station Great Lakes. These care packages are NOT available for Recruits stationed at Recruit Training Command (Boot Camp).

Brighten a Sailor's day by purchasing a select care package to express how proud of them you truly are! This delightful care package contains a customized Great Lakes Command Commemorative coin, the first of many that they will collect throughout their naval career. This package includes a ceramic "I Survived Navy Boot Camp" mug, perfect for preparing microwavable meals in, along with a collection of recipes that are easy to make in their barracks. It also includes Swiss Miss Cocoa and other sweet treats, sure to put a smile on their face! Down time will be appreciated with these "rest and relaxation" items: a deluxe 3-in-1 puzzle book, a deck of cards and a "MWR Everywhere You Go" pencil, as well as personal care essentials to protect them from the weather elements of the nearby "Windy City". All items are nicely bundled inside a Naval Station Great Lakes cinch tote, along with $5 of Morale, Welfare and Recreation (MWR) "Bucks", good towards bowling, movies, boat/gear rentals, and food and beverages. The "Bucks" may be redeemed at MWR recreational facilities, right here on the base!

****ORDER NOW and we'll include a free 100% cotton graphic tee for your Sailor. Limited time offer.****
Student Sailor Care Packages are ONLY available to A and C School Student Sailors at Naval Station Great Lakes, IL.

PLEASE NOTE:
Student Care Packages can be ordered anytime, up to 14 days before your Sailor's departure date from Great Lakes.

To order your Care Package:
Click the link below. Select "Care Package" in the Category drop down menu, and then click "Search."
https://myffr.navyaims.com/wbwsc/nrmwgrlkrec.wsc/wbsearch.html?wbisi=si&xxmod=PS&xxtranscode=27120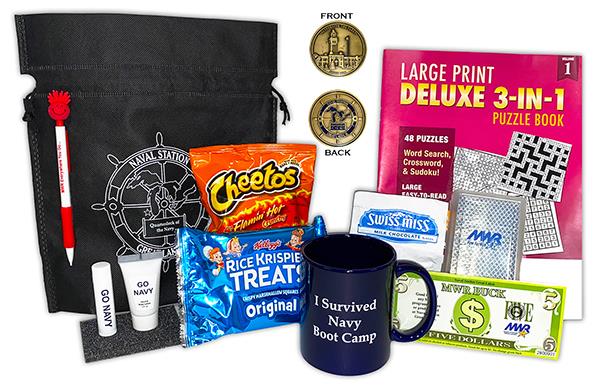 Email your questions or concerns to grlkmwrrecdivisi.fct@navy.mil
Please write Student Care Package in the subject line.

Want to go back to the Main Care Package Page ?
Want to order a Recruit Care Package instead ?